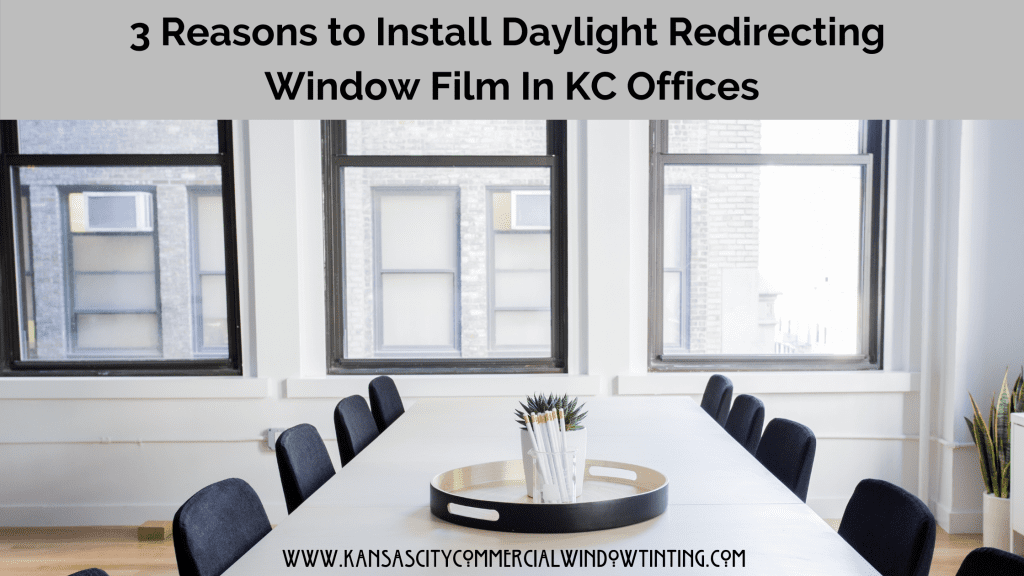 Most of us used to spend a fair amount of time in offices. Now, as you are likely aware, COVID has put things on hold. There is hope things will return to normal but this is a great time for office spaces to make the best of a bad situation and upgrade their properties while they are empty. A fantastic idea for an upgrade to office windows is Daylight Redirecting WIndow film. This film is an amazing modern convention and brings with it a myriad of benefits. We have outlined three distinct benefits these types of films provide for workers and employers.
The Most Important Daylight Redirecting Benefits for Kansas City Office Spaces
Increase tenant comfort and retention with Daylight Redirecting Film
When you own or manage a commercial investment property, especially those with office space, keeping it as close to 100% rented out is critical for maxim profit. While daylight redirecting films are known for lowering lighting, heating, and cooling costs–it also makes spaces more comfortable too. This means your tenants and those they employ stay comfortable. Studies have shown comfortable tenants, are happy tenants, and ones that will stay renters longer.
Boost employee productivity with Daylight Redirecting Film
Keeping employees on task is hard. When your space is uncomfortable because of glare and hot and cold spots, it becomes that much harder. Daylight redirecting films normalize temperatures-especially near windows. Also, it increases the amount of "glare-free" natural light coming into your space. All of these factors are proven to lower employee performance.
Decrease rates of absenteeism with Daylight Redirecting Film
Studies have shown when office spaces aren't comfortable (i.e. glare, too hot, too cold) employers see higher rates of absenteeism. This also means it is harder for employers to retain valuable employees. Daylight redirecting window film, an affordable solution to office comfort, makes workplaces warmer in the winter, cooler in the summer, and brighter all year round- and reduces glare on screens.
For more information on daylight redirecting films that work best for your Kansas City office space, contact us at Kansas City Commercial Window Tinting today!