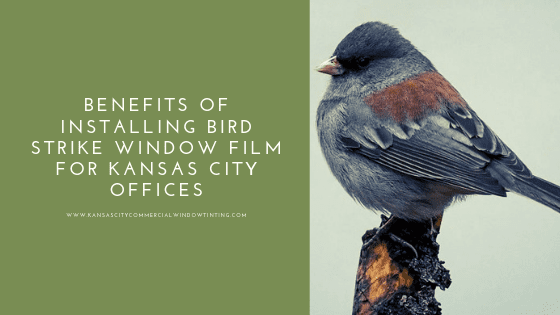 Everyone loves having a window seat in an office. At least by the window, you get to enjoy some sun and nice views. When you're stuck inside all day, these things matter a lot to your happiness.
We need windows in our buildings. We depend on them for both light and our mental health. The downside is, the windows in our office buildings are killing birds – millions of them.
Birds collide into windows without even knowing they're there. And our human structures are entirely to blame. But it doesn't have to be this way. By installing bird strike window film for our Kansas City office buildings, we can create an environment where both birds and humans can exist in harmony. And we don't have to sacrifice our access to outdoor views or natural light.
What Causes Bird Collisions?
Bird collisions are caused as a result of the poor design of our commercial buildings. We've placed them right in the birds' flight paths, and have done nothing to warn them. Windows are hard for birds to recognize. They are either clear and therefore invisible or very reflective, and look like sky or branches. And birds fly straight into them.
How Bird Strike Window Films Work
Bird strike window films are installed on Kansas City buildings to make them safer for birds. The films display patterns or lines that make windows easier to see, so birds know to fly around them.
Benefits of Installing Bird Safety Film
Installing bird safety window film for your Kansas City office is both a smart and compassionate choice. By making this simple, low cost investment, you can:
Create an office that's safer for birds and people
Reduce bird deaths in your neighborhood
Protect the environment by preserving important species
Prevent human collisions and accidents
Preserve the views that your employees cherish
Learn more: Bird-Strike-Window-Film-Kansas-City
Get More Information
Adopt a more sustainable model for your business by investing in bird strike prevention window film today. Call Kansas City Commercial Window Tinting to get more information.