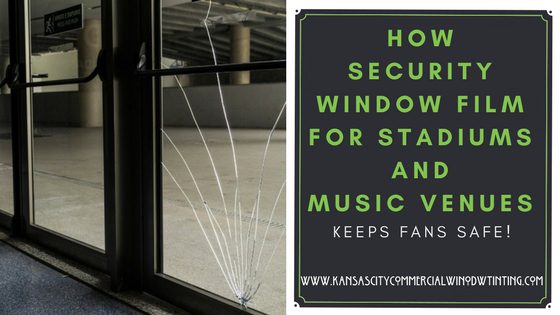 Keeping Kansas City Patrons And Fans Safe In Arenas And Stadiums
We all love to cheer for the home team and in Kansas City, the fans are no exception to this rule. From huge stadiums like Kauffman Stadium, where the world champion Kansas City Royals dominate to the smaller venues like Children's Mercy Park where Sporting Kansas City Play, you can find avid sports fans packed in, any given day of the week. Having a community that has pride in its team is a great thing and tons of fans help make the Kansas City economy go-round so, keeping those fans, vendors, coaches, and players safe should be a high priority for the community at large. In an era where any large sporting stadium or concert venue is a potential target for terrorist or gun attack, what is the best way to keep Kansas City fans and teams from harm? The answer is easy and it starts at the entrance to these venues in the form of safety and security window film.
High-End Security Window Films For Safe Stadiums, Arenas And Concert Venues
High-performance window films paired with cutting-edge C-bond adhesives and specialized security frames will do many things.  From keeping patrons safe to making the stadium comfortable and energy efficient. High-end security films, like the ones used to protect crowds of people, are stronger and thicker than regular safety films, typically 4 mils to 10 mils thick. It is capable of protecting against high-velocity impacts from both bomb blasts and bullets and increases the chances of survival in a catastrophic event greatly. The way safety and security films do this is by keeping the glass intact even after it is broken–rather than allowing it to explode out. This not only protects fans from would be attackers but is key for natural disaster protection from earthquakes, tornadoes, hurricanes and more. Also, adding a layer of safety film can protect against scratches, cracks, graffiti, and other forms of vandalism and is much more cost-effective than replacing the glass itself.
Kansas City Commercial Window Tinting—Kansas City's High-End Security Film Experts
To learn more about how security film can protect your Kansas City stadium, arena or concert venue, contact Kansas City Commercial Window Tinting and speak to one of our security experts today!