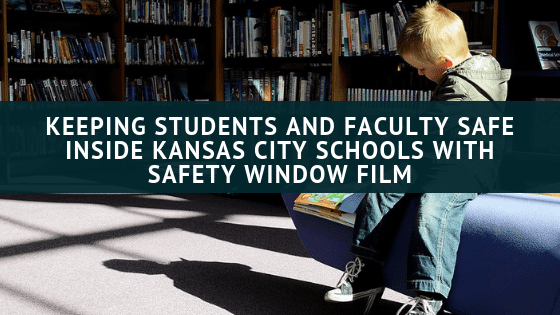 It's a school's job to protect its staff and students. Unfortunately, it's a job that's becoming more and more difficult each year. With budgets being slashed in half, schools have to find ways to compensate for the lack of funds, which sometimes means reducing the number of teachers or security staff. That means schools are left with fewer hands on deck when it comes to monitoring students safety and activity.
That's why many schools are turning to new security methods to make their schools less vulnerable to break ins, vandalism, and intruder attacks. Their solution? Safety window film.
Safety window film provides Kansas City schools with a way to improve campus security without breaking the bank. Safety window films provide an alternative to bulletproof glass and can be used to retrofit existing windows and glass doors for added strength and protection.
How Do Safety Window Films Work?
The primary function of safety window film is to make glass more shatter resistant. Glass naturally contains imperfections that make it very easy to break. Safety window films work by reducing the number of natural imperfections in glass, thereby increasing its strength.
A super strong primer is applied to the glass area to fill in natural holes and imperfections, reconfiguring the molecular structure of the glass along the way. Then an extra thick, durable sheet of safety window film is applied ontop to secure broken glass in place. That way, if all else fails, the film will keep broken glass shards in place, preventing them from flying across the room.
If an intruder attempts to break into a school by shattering a window, they will be unable to do so because the film will still be attached to the frame. With no opening, there's no way an intruder will be able to get inside the building.
Safety Window Film Benefits
Safety window films provide numerous benefits for Kansas City schools including:
-Protection against accidents
-Protection against high speed winds and tornadoes
-Reduced risk of burglary and vandalism
-Decreased risk of glass related injuries
Invest in Safety Window Film for your Kansas City School
Protect your staff and students with safety window film for your Kansas City school. Call us today to schedule an appointment for a consultation or get an estimate.