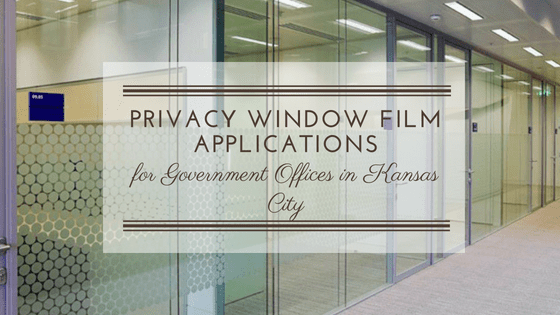 Kansas City features a multitude of government offices located throughout the area. Many government offices unfortunately lack privacy whether it's from unwanted street views or from conference rooms inside their building. With strict budgets in mind, finding effective solutions may seem difficult. Luckily, window film delivers all the privacy benefits that can improve the comfort and productivity of your government office at an affordable price point.
Benefits of Privacy Window Film for Your Kansas City Government Office
Exterior privacy tinting is great for offices located on the first floor within street view or for offices simply located within close proximity to each other. Exterior privacy tinting can also modernize your building while improving the privacy of your employees. Interior decorative privacy films are available for conference rooms, collaborative workspaces, and much more. These highly customizable films can imitate the expensive look of etched or frosted glass. For a more tech-savvy privacy solution, Casper cloaking film is also available. This innovative film disguises LED screens only so that your government office remains welcoming and open. Finding an effective, aesthetically pleasing privacy solution for your Kansas City government office has never been easier.

Installation Process for Privacy Window Film in Kansas City Government Offices
Kansas City Commercial Window Tinting is well-experienced in government office and building installations. We begin every project with an on-site consultation to evaluate all your needs, goals, and challenges. Our design team is always happy to help with customizing films or finding the right look for your government building. We have the most comprehensive, versatile selection of exterior privacy tints and interior decorative privacy films available in the Kansas City area. We utilize glass primers and strengtheners to prolong product life.
For more information regarding privacy window film applications for your Kansas City government office, please contact us or call: (816) 875-3519