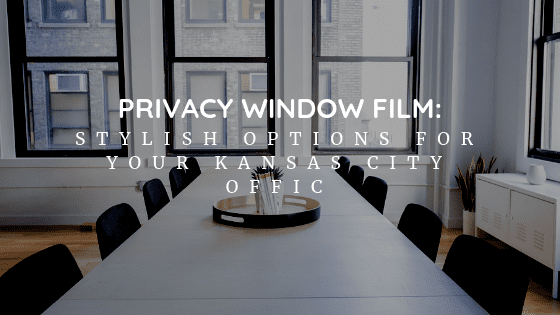 Kansas City offices all deal with some sort of privacy issue. Conference rooms, collaborative workspaces, and co-working areas all require interior privacy solutions. Many offices are located in high-traffic areas or are within close proximity to other buildings. These privacy issues require an exterior privacy solution. In order to find the right solution, office buildings require budget-friendly solutions that can improve aesthetics and functions. Privacy window film addresses all these issues while providing beauty and individualism to Kansas City offices.
Benefits of Privacy Window Film for Your Kansas City Office
Privacy window film is a highly-functional, versatile solution that addresses decor and privacy. With so many stylish options, Kansas City offices can really utilize these to transform their existing spaces. Decorative privacy window film offers a multitude of different colors, transparencies, opacities, gradients, and styles. With the ability to imitate the appearance of frosted or etched glass, decorative film costs a fraction of the price and can actually be custom print on or custom cut. Offices can add brand visibility and individuality to with custom decorative privacy films. For life-like graphics, high definition printing can be executed on optically clear film. These custom printed films offer jaw-dropping graphics with individualized opacities that can be installed strategically to conceal certain areas of a room. Casper Cloaking Film is also available for unique design and concealing electronic screens.
Installation Process for Privacy Window Film in Kansas City Offices
Kansas City Commercial Window Tinting is the preferred window tinting contractor serving offices throughout the Kansas City area. Our graphic design experts can help you find the perfect style of decorative privacy films that compliments your office and adds the decor you've been looking for. Experience quick, worry-free installations!
For more information regarding privacy window film for your Kansas City office, please contact us!