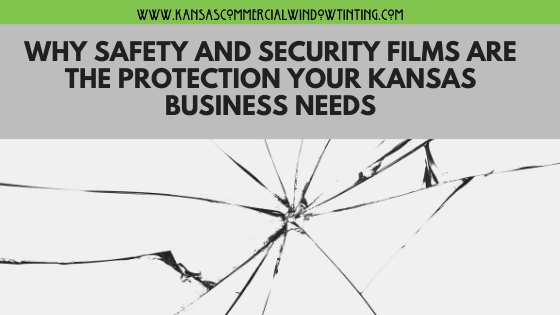 Running a business of any size or service is hard.  It also comes with some inherent risks. This means you need to think long and hard about how to avoid things that could take your business down. One thing that may be risky is the glass on your building.  It is a weakness in your building's security and it can cause other issues, like injury or harm.  A smart way to remove some of the risk in your small business in Kansas City is by having window film installed. 
Safety And Security Window Film To Protect From Theft
Window film is a great way to stop the windows on your Kansas City business from giving way in a robbery attempt. Smash and grabs crimes are common crimes of opportunity.  Although glass treated with window film will break when hit by an object–it will take numerous blows for a  would-be thief to actually penetrate the glass. When the convenience aspect of a smash and grab is removed–most criminals will simply move on to an easier score.
Safety And Security Window Film To Protect From Accidents
Whether you run a Kansas City gallery, store, or restaurant– your patron's safety is up to you. Glass windows in your space is a definite threat to safety–especially if they are large plate glass or in a slippery location.  The repercussions from accidents involving glass cost business owners millions.  To reduce the risk of injury to your patrons and possibly litigation–safety and security window film is the answer.  It keeps the glass in place after a fall or slip so people don't hurt themselves on shards of glass.  It can also help your defense should a lawsuit be filed against you. 
Safety And Security Film As A Tempered Glass Alternative
Renovations are a regular affair for commercial spaces. During these remodel you will need to bring your building up to code.  Old glass which is usually plate glass is dangerous because it will break into large shards which could seriously injure someone.  To bring your space up to code you will need to install tempered glass–which can be expensive.  A solution to this is safety and security film applied on top of the old glass. By installing these films is a substitute for installing new tempered glass and is more cost-effective too.
For more information on safety and security film for your Kansas City business, contact us at Kansas City Commercial Window Tinting today!