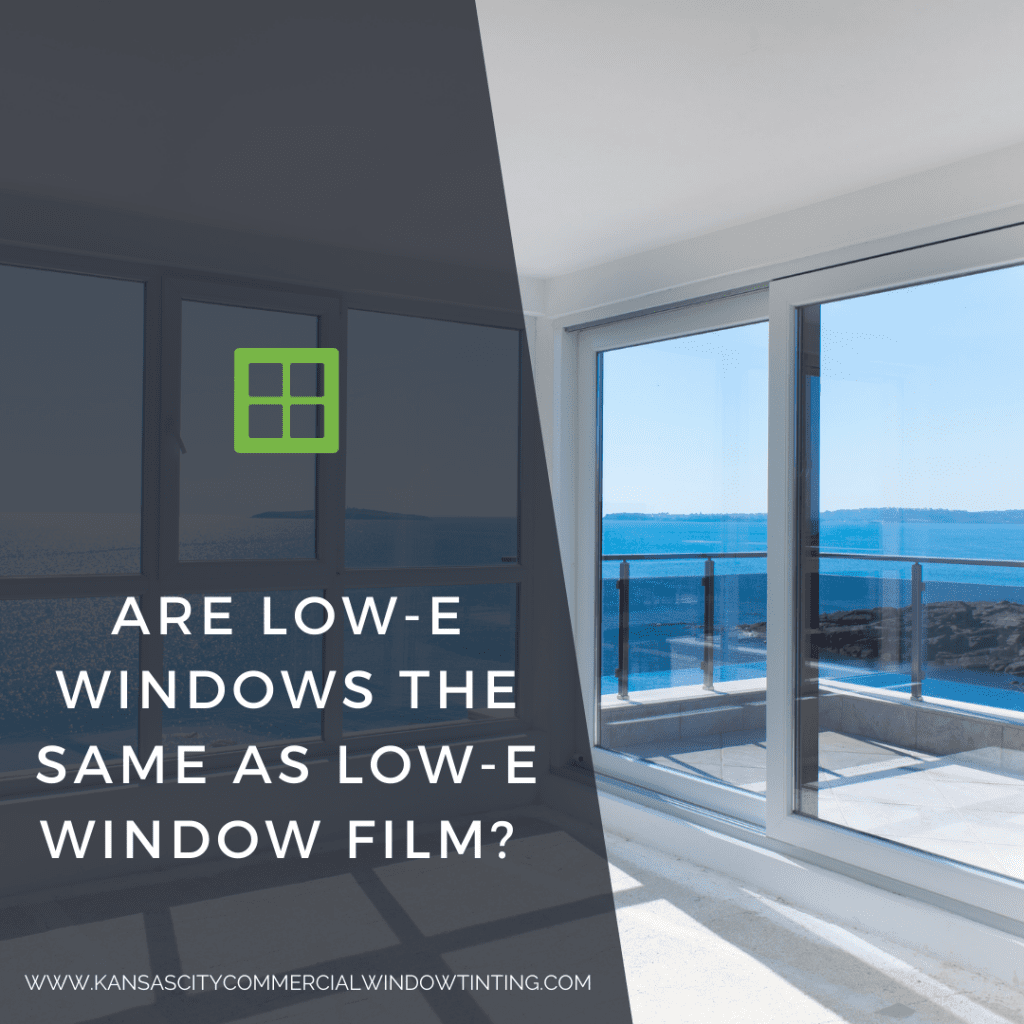 Low-E is something most homeowners hear frequently when shopping for windows or getting repairs done to their home KC home. To the average person though, it really doesn't mean anything. It seems like every window brand and salesperson mentions it without a whole lot of explanation. As window film experts, to be honest, we use the phrase a lot too. So we are taking some time to explain just what Low-E is and isn't and compare Low-E windows to windows treated with Low-E Window film–because their performance is very different.
Low-E Window Film vs. Low-E Glass
Technically speaking Low-E means "low emissivity". But, that phrase doesn't really roll off the tongue, does it? The term references the emissivity or travel or heat through the glass. If this "emissivity" is lower than the standard rating of .33–the glass of film can be deemed Low-E. So to be truly Low-E glass or window film they need to perform below a .33 in insulating and rejecting heat–which saves energy. But let's compare the two because they are not the same. The clear winner in price and performance is Low-E window film. Today's Low-E window films have ratings as low as 0.07. The translates to 93% of heat reflected from coming into your home and a whole lot of savings. Low-E glass windows that you would get in a full replacement (even the very best, most expensive Low-E glass) don't perform nearly as well. In fact, it only performs the same as a mid-level Low-E window film and still costs over 10x more–not including custom-sized windows that will drive the price way up. There is also the hassle of having all the windows in your home replaced–not fun. So, if you are looking to stay in budget, have your windows made Low-E quickly, and get the most potent energy-saving technology–Low-E window film is the right choice for your Kansas home or commercial structure!=The Benefits of Low-E Window Film.
The money-saving benefits of Low-E window film are undeniable compared to Low-E glass and/or untreated windows. But there are even more benefits to this modern technology too!  
Improved comfort: More even room temperatures in and around windows and throughout interiors
Reduced glare: Better screen clarity and views inside and out. Some people even reporting better outside views after film.
Energy savings: An average of 29% annual HVAC spending saved in some cases. 
Reduced solar heat gain: A rejection of heat on windows directly proportional to the window film emissivity level. 
Increased safety: Windows treated with film will break into small pieces rather than dangerous shards–making them more safe and secure.
Low-E window film compared to Low-E glass is by far the winner on many levels: cost, look, efficacy, added benefits, and installation process. learn more about this technology for your Kansas City home, contact us today for pricing!