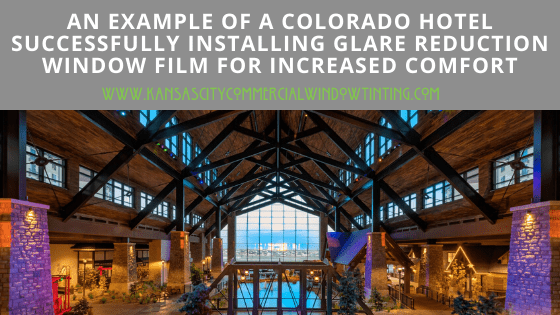 Working with hotels in Kansas City and across the US is a huge part of our commercial window film business. As any hotel owner, manager or employee knows–comfort is king; second only to access to area views. With so many windows on hotels, many of them towering, it is common for hotel establishments to find themselves with excessive glare obscuring the scenery. This makes glare reducing window film a great idea for any hotel wishing to succeed by giving its guests the comfort and ambiance. Recently we worked on a challenging but extremely rewarding project on a Colorado hotel to reduce intense glare for their establishment and provide other critical benefits.
The Challenge: Reducing Glare On Hotel Windows–Maintaining Views
An immense Marriott hotel with some of the most stunning windows we've ever worked had nearly 180-degree view of the mountains but a ton of glare and heat to go with it. However, the hotel noticed at some of the best times of day, the areas around the striking windows were empty. They realized that guests were avoiding this space because of excessive heat and glare radiating through the windows. Since this area was so beautiful and made for the guests to use–the hotel knew something needed to be done to curb the glare
The Solar Film Solution To Hotel Window Glare
When we first visited the Marriott hotel, our initial job was to install frosted decorative window film on their tasting rooms. On the way to our job within the hotel, an engineer walked us by the gorgeous towering windows. He mentioned the current plan to reduce glare was putting in roller shades. This solution, he said, was not only expensive (possibly necessitating a designated employee to open and close the shades) but blocked the gorgeous mountain and some city views. We then asked management to consider solar window film as a solution instead. They allowed us to install samples of some of our most effective glare reducing films. The difference was amazing and they realized tinting the windows was the very best solution. After some trial and error, the film they decided on was Llumar DRN-35. This film blocks glare, solar heat gain and still makes gorgeous views visible through the iconic windows. This type of film also protects fine upholstery, carpets, and floors from fading. So the benefits extended beyond just improving guest experience into savings on energy use and replacement furnishings.
Kansas City Commercial Window Tinting For Glare Control Films In Kansas City
The hotel we found a glare and heat control window tinting solution is extremely pleased with the results. It is the perfect solution and one we use often here at Kansas City Commercial Window Tinting. If you have a KC hotel that suffers from glare and excess heat through windows, reach out to us today and allow us to consult with you on a custom solution to fit your specific needs.